Bilingual Experience without Barriers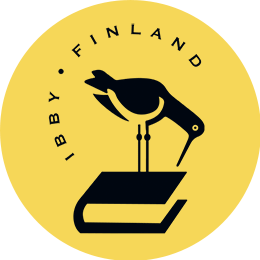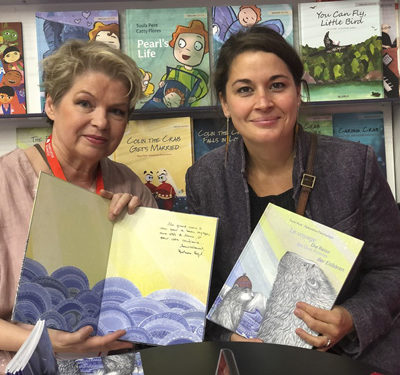 Written by Tuula Pere
KidiKunst is a French children's book publisher from Alsace specializing in bilingual books with a new concept. In their books, the French/German translations and contemporary illustrations are mergedinto a seamless experience. This kind of implementation allows the reader to dive into the languages ​​and cultures without fear or prejudice.
Publisher Barbara Hyvert shares her thoughts and experiences of her unique work with new types of bilingual books. She was interviewed by a Finnish children's author and publisher, Tuula Pere, who collaborated with KidiKunst in a publishing project two years ago.
KIDIKUNST FROM FRANCE HAS PUBLISHED BILINGUAL CHILDREN'S BOOKS – FRENCH/GERMAN – SINCE 2017. PUBLISHER BARBARA HYVERT, HOW DID YOU COME UP WITH THIS IDEA AND FOUND YOUR TARGET GROUPS?
Bilingual by my parents and living in Alsace – a cross-border region with Germany, Switzerland, Luxembourg, and Belgium, all these countries speaking German and French – I liked the idea of working on combining these two languages.
As such, adding and combining stories, fiction, and beautiful illustrations, makes learning languages lively and attractive for children. And for children who are already bilingual, we introduce a new concept to immerse them in their languages.
In the Alsace region, French/German bilingual schools are very well established, and the children attending these schools are one target group for these bilingual books. Creating a new concept for bilingual books was also a way to provide children in these schools with a tool that was not pedagogical, academic, and didactic but instead an open window of playful awareness of linguistic diversity.
Moreover, German has a large footprint among the older generations, which as such also constitutes a pool of potential consumers. Grandparents could, for example, read bilingual stories to their grandchildren. I appreciate the idea that the KidiKunst children's books create an intimate, intergenerational family moment.
YOUR PERSONAL RELATIONSHIP WITH FRENCH, GERMAN, AND BILINGUALISM CERTAINLY GIVES YOU A STRONG BACKGROUND IN HELPING AND CHILDREN AND THEIR FAMILIES TO ADAPT TO A BILINGUAL ENVIRONMENT. HOW WOULD YOU ENCOURAGE PEOPLE TO APPROACH LEARNING LANGUAGES?
My mother is German, my father is French, and I was lucky to grow up in a bilingual context. Attending international schools has also significantly affected how I learned languages. But I think the best advice for learning a new language came from my Mum when I was little. She encouraged me to read. Read. Open a book and read. To confront the words, to see them, decipher them, say them, confront the sentences, and the way they are written.
I would add, from my experience as a German teacher for adults, that you have to dare to speak up, to accept making mistakes that are enriching and instructive. You must have the courage to take the initiative and not forget that the native speakers of the languages you are learning are happy to share their language.
THE WAY YOU WORK IN BILINGUAL TRANSLATION IS FRESH WITH A NEW CONCEPT. COULD YOU DESCRIBE IT IN MORE DETAIL? WHAT ARE THE BENEFITS OF BILINGUAL BOOKS TRANSLATED IN THE KIDIKUNST WAY?
For me, being bilingual means knowing and being able to switch from one language to another in everyday life. It is also living with, writing, and reading two languages, but also knowing two cultures.
The KidiKunst concept offers the reader the possibility to immerse in one book written in both languages. By switching from one language to the other, the reader will capture the story and understand it, exercise the switch from one language to the other like children when raised in a bilingual setting; they naturally include words from one language into the other when they tell a story.
The advantage of writing books for children is that they also contain pictures. These pictures are of great help if the reader has difficulties understanding the text. In addition, children will find the full translations in both languages at the end of the book.
KidiKunst bilingual books allow children to develop metalinguistic skills of reflections about languages in comparing them, observing them, and putting them in relation.
KIDIKUNST ALSO WORKS DIRECTLY WITH CHILDREN TO MAKE THE READING EXPERIENCE AS LIVELY AND INTERACTIVE AS POSSIBLE. THESE ACTIVITIES MUST BE AN EXCITING SIDE OF YOUR WORK. HOW DO YOU SEE THE ROLE OF ADULTS IN SUPPORTING CHILDREN AS THEY READ BILINGUAL BOOKS? IS IT DIFFERENT FROM THE NORMAL READING SITUATION?
Indeed, as a publisher, author and illustrator, we work a lot with the public around our books. It is very important for us to share this object, to put it in the hands of the public, and to bring the book to life in every possible way. We also organize different meetings around the KidiKunst book collection to share our unconventional concept.
We offer bilingual readings (always bilingual to respect the universe of the text and the interplay between the languages that are mixed), along with artistic and writing workshops. Reading in two languages is useful to show children what it is to be bilingual. They understand that languages are connected to each other; there is no need to put barriers between them to learn them. Indeed, our adult perception will allow the child to be free and confront the learning of languages. If we as adults say, "It is difficult," the child will follow our example and will put a barrier in the learning. But in reality, children do not have brakes yet, as I highlighted earlier. They are like sponges and absorb words from different contexts and languages and try to repurpose those.
We try to achieve this with our collection: to offer a new kind of bilingualism (transbilingualism). That scares many adults. But, for children, immersion in languages comes naturally, like a new language.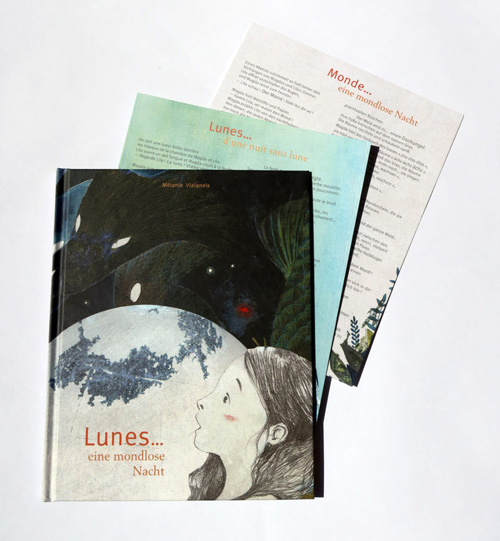 YOU HAVE STUDIED ART HISTORY. IS THIS REFLECTED IN YOUR WORK AS A PUBLISHER OF BILINGUAL CHILDREN'S BOOKS? ARE THERE FACTORS THAT UNITE THE BOOKS YOU PUBLISH – SUCH AS THEMES, ILLUSTRATION STYLES, AUTHORS, I.E.?
Yes, my editorial choices and my favorites leave a lot of room for illustrations. Both the images and the texts have to appeal to me as a whole. But the illustrations carry the story even further than the words. They bring imagination, they raise awareness where words cannot, and above all, the image is a universal language. When languages or vocabulary make it difficult to understand the story, the image gives the keys. It becomes another form of free writing that shows what is not said in the text. There is no redundancy between the text and the image.
I have worked a lot in the world of photography. And, after so many years with an artistic medium that created a distance from the viewer, I wanted to rediscover materials, texture, and other creative processes.
There is no specific theme or factor that links the books within our collection. At this stage, there is no specific message that we want to pass to the children. The stories are selected or written because I like them. Still, one could say that the book about Nanu speaks about global warming and that der Schrei, Le loup speaks about immigration and ecology. On the other hand, the book with recipes for Christmas has no message, except to enjoy the festive season and cooking with family.
KIDIKUNST HAS ITS HEADQUARTERS IN ALSACE, VERY CLOSE TO THE GERMAN BORDER. IS IT EASY FOR CHILDREN'S BOOKS TO CROSS BORDERS? HOW ABOUT INVISIBLE BARRIERS OR PREJUDICES BETWEEN CULTURES?
KidiKunst books travel from France to Germany, to Switzerland, Belgium, and Luxembourg. Still a few. But we are working on it. We wish that we had more visibility in Germany to increase the chances for our books to reach the children living there. Our primary choice of Germany is based on the fact that Alsace is sharing its Eastern border with it. It is not easy to identify the bookstores that are ready to take the time to understand the concept we put forward. Obviously, one wishes the bookstore owner to be as engaged as we are and to adhere to this particular concept of bilingualism.
Long-term, we also wish to be in contact with French cultural institutes localized in German-speaking countries, international or bilingual schools, as well as language organizations. Participation in book fairs, conferences, educational events to reach the public directly is of big interest, too. For example, the book Nanu was born from my meeting with the Finnish publisher WickWick, and its author Tuula Pere at the Frankfurt International Bookfair.
The KidiKunst book collection has its place in Germany, too, and we need to continue working with German artists and authors with the idea of a dual cultural identity.
But… because of the Covid situation, things have been more complex, and everything is on hold.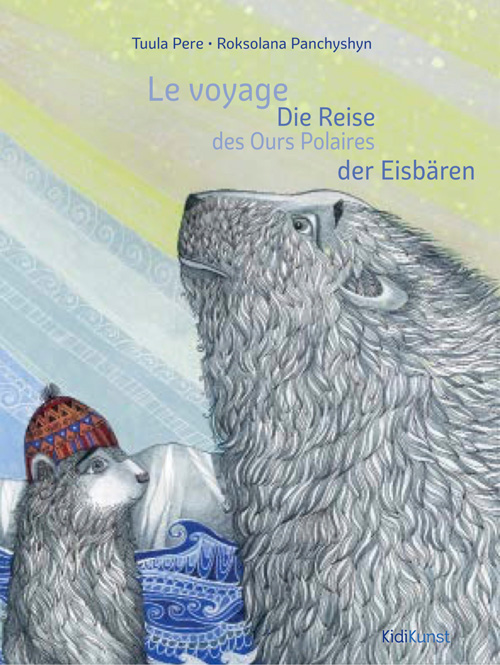 WHAT IS YOUR BIGGEST DREAM AS A CHILDREN'S BOOK PUBLISHER?
I aim to reach my audience and make KidiKunst referenced as one of the leading publishers in bilingualism.
But my biggest dream and my pride would be that one of KidiKunst books received a Literary Award.
THANK YOU, BARBARA HYVERT, FOR THIS INTERVIEW! WE WISH ALL THE BEST FOR KIDIKUNST'S BILINGUAL WORK AND HOPE THAT YOUR DREAMS IN PUBLISHING WILL COME TRUE.